Earth Day: Let's try composting
PUBLISHED: April 11, 2014
By: Shelly Sanders
Earth Day is a mere two weeks away and already we are trying to find new ways to be more green and eco-friendly. Our family has implemented many practices into our daily lives that decrease our carbon footprint; from riding our bikes in lieu of driving whenever possible, using reusable water bottles, installing high efficiency light bulbs and we've slowly, piece by piece, replaced all of our appliances with Energy Star Certified versions. This year, we want to take our efforts outdoors.
For the past few years, my husband and I have been toying with the idea of composting. Yes, composting. A concept once thought to only be for the hippies and commune dwellers, composting has seen an increase in popularity in the last decade. With endless online tutorials and ready-to-use compost bins available all over the place, it would seem that now is the best time to begin.
The topic came up this time when my husband and I were talking about the gardens. I was taking stock of what was growing and what spots needed fresh blood when I discovered that the soil was in dire need of a refresh. I told Joshua this and he just shook his head, saying, "I can't believe we buy dirt." I decided to broach the composting topic then.
After doing a little research, I found out that we could get a small, discreet compost bin for around the same price as the top soil that we have to buy every year. It would also allow us to continually refresh the soil instead of doing it all at once. Beyond the garden, being able to put much of our food-stuffs into the bin instead of the garbage will significantly reduce the amount of trash we are producing. Fewer trips to the trash can is always a plus!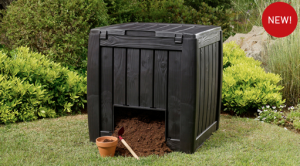 I think spending the day in the garden and beginning the compost process will be a great way to spend Earth Day.
Resources:
Find out more about composting here: Composting 101
Read about the Earth-friendly ways of Sanibel Island and Sundial Resort in this previous post: Sundial and Sanibel Think Green is Good