Authentic Japanese Cuisine On Sanibel Island
The Sundial Beach Resort & Spa's Shima Japanese Steakhouse & Sushi Bar offers authentic Japanese cuisine for a unique dining experience on Sanibel Island.
At Shima, we serve only high-quality beef and chicken, mouth-watering seafood, and garden-fresh local produce. Your authentic Japanese cuisine experience features quality sushi and Teppanyaki prepared right before your eyes at the hibachi grill. Our chefs celebrate the artistry, fresh ingredients and skillful cooking that makes dining at Shima so very special. With years of experience, they welcome you to their tables.
Meet Our Chefs
Sammy Chaianant grew up in a small farming village in Thailand where his uncle gave him his first cooking lessons. A colonel in the Thai Navy, Sammy's uncle once cooked for Queen Elizabeth II. Sammy left Thailand for formal culinary training in the United States and after working under many masters, Chef Sammy brings the magic of Teppanyaki cooking to Shima. With his big smile, Sammy enjoys creating an exceptional evening for his guests.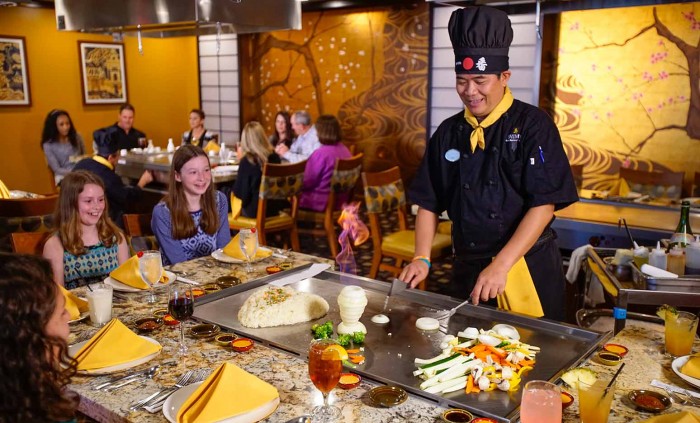 Chef Rigo Valacsay began his career at the renowned Benihana in 1988. His biggest influence came from Chef Takabayachi, one of the first Teppanyaki chefs to come to the U.S. from Japan. He taught Rigo about Japanese cooking and how to roll sushi. Rigo loves cooking at the hibachi, where he can interact with diners and meet new people every day! Chef Rigo promises his guests a culinary experience of cookery and art.
Denny Cho spent years developing his artistic style of sushi making. Now, he has chosen Shima as the showplace for his artistic eye and inspired skills which add beauty and sophistication to his sushi. His incredible displays show the artistry of his work. His dedication to the craft and his natural ability to please the most discerning palate have made Denny an indispensable part of the Shima Team. Denny's sushi is also served at Sea Breeze Café and Turtle's Pool & Beach Bar and is available "to-go".
Chef's apprentice and soon-to-be Teppanyaki Chef, William Jackson began his career learning sushi making and after six years of refining his sushi skills, he has turned his attention to Teppanyaki cooking under the tutelage of Chef Sammy Chaianant. William's passion is in the artistry and creativity of Japanese cooking, and he enjoys coupling his talent and imagination in rolling sushi and cooking at the hibachi.
The Shima Team invites you to dine with them. To view the menu or to make a reservation, contact us today. Shima serves dinner Tuesday through Saturday from 5-10 p.m.