Bailey's Marketplace Popular With Sundial Guests
When guests come to relax and unwind at Sundial Beach Resort & Spa, they can rest assured that all of their needs will be taken care of during their stay.
One of the ways we continue to meet our guests' needs is through Bailey's Marketplace, an onsite store offering everything from groceries and hardware to gift items and beach supplies. If you left home without a certain something, it's OK because you're sure to find it at Bailey's. Having such on-site services like this is just part of what keeps our guests coming back time and time again.
Here's what you can expect from our Bailey's Marketplace.
Great Reputation: Bailey's Marketplace is in association with Sanibel Island's Bailey's General Store, which has been serving shoppers and coffee drinkers on the island for more than 110 years. Bailey's Marketplace is a continuation of the outstanding service the store is known for.
Coffee and Fresh Baked Goods: Bailey's General Store's Coffee Bar has been "Certified for Excellence" by TripAdvisor and you'll see the same type of quality in the coffee beverages sold here. Enjoy espressos, cappuccinos, flavored coffees and homemade baked goods like the tasty key lime sour cream doughnut.
Picnic Items: Heading to the beach or maybe on a bike tour of Sanibel Island? Stop by Bailey's Marketplace for all your picnic needs, from salads and sandwiches to pressed paninis and even hot soup.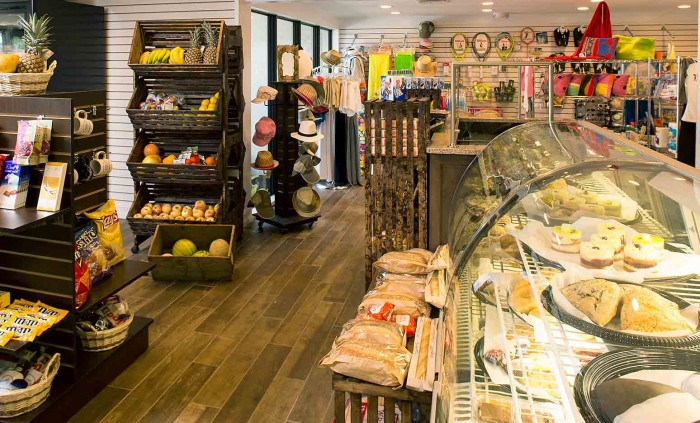 Produce and More: If you're planning an extended stay at Sundial, you'll love the fresh fruits and vegetables, meats, bread, milk, eggs, juice and dry goods.
Beach Items: Assorted beachwear, towels, balls, games, puzzles and more. And if you forget the sunscreen, no worries. You can pick some up here.
Grocery Delivery: Planning your annual week of vacation at Sundial? No need to start your week at the grocery. Order online in advance and Bailey's will deliver your groceries to you or have them ready for pick-up. How's that for service? Be sure to order one of Bailey's World Famous Mermaid Cakes like Orange Crunch, Bailey Brothers Coconut, Bootlegger Rum and more.
What do you think about Bailey's Marketplace? Ready to book your next stay at Sundial? Contact us today.