Sundial's Spooky Spectacle
Even the beautiful paradise of Sundial Beach Resort & Spa gets a little spooky once a year. Every year our various departments dress up and carve a pumpkin for a frighteningly fun competition that shows off the true creativity that makes Sundial such a fabulous place to visit.
---
While Halloween decorations come in many forms, there is only one decoration that appears everywhere and allows holiday revelers to truly capture the spirit of the holiday: the Jack-o-lantern. Every year, Sundial's various departments take the time to carve and decorate their very own pumpkin and put it on display for guests to see. These spooky works of art are then judged by our guests to determine which department managed to create the greatest gourd. This year produced a wide array of incredible ideas, like Housekeeping's "Night at the Movies" pumpkins featuring a bucket of popcorn and root beer, Tennis' fear-inducing tennis ball cannibal, and Reservation's intricate sun design, but only one could stand at the top. Matching their pumpkin to their costume design and creating a nautical work of art, our Recreation team won the contest with their detailed pirate ship pumpkin, fit to set sail in search of Sanibel treasures.
At our staff costume party later, competition was just as stiff. All of the costumes our staff put together were incredible, and judging became a challenge all its own. This year we saw costumes of every variety, from scarecrows and pirates to cowboys on their horses and various Disney characters. The two presidential candidates themselves even made an interesting appearance. After much deliberation, the winning costumes were announced, with Ernesto from our Tennis department being crowned the victor with his unique Joker costume. In the group department, our front desk team came out victorious with their array of popular Disney characters including Snow White, Pocahontas, and Minnie Mouse.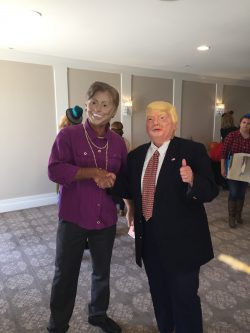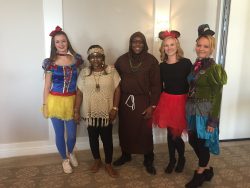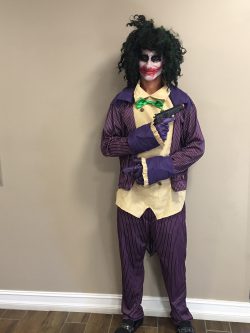 At our staff party there were more than just tricks, as delicious food was served and a candy counting contest was held to treat the staff member with the best guessing skills. This year Sherly from the front desk had the best guess and took home a delicious assortment of Halloween candies. We at Sundial would like to thank all of our staff for making this year's Halloween great and all of our guests for helping us choose our victors. We look forward to the coming holidays and to seeing you all here at our beautiful resort.