Jump Into Summer With A Dive-in Poolside Movie
Take a relaxing dip and enjoy a movie at the same time during Sundial Beach Resort & Spa's weekly dive-in poolside movie.
Every Saturday evening during the summer our guests are invited to watch a family friendly movie as they splash around the pool or relax on lounge chairs. Each week's movie is a surprise, but every selection is suitable for all audiences. The movie is broadcast on a poolside 12-foot-by-12-foot screen.
Let the kids float on their rafts while you keep an eye on them or join them in the pool while you enjoy a delightful summer evening of fun and entertainment. The dive-in poolside movie event starts at 7:30 p.m.
Make It Dinner And A Movie
Before the poolside dine-in movie experience, take advantage of another one of our summer specials. Enjoy a buy-one-get-one free large pizza from Slice of Paradice, our on-site pizza, hot dog and ice cream shop.
Slice of Paradice offers a casual spot to grab hot snacks or frosty treats during your stay at the resort voted Best Staycation in Southwest Florida and Best Full Service Resort on the Islands.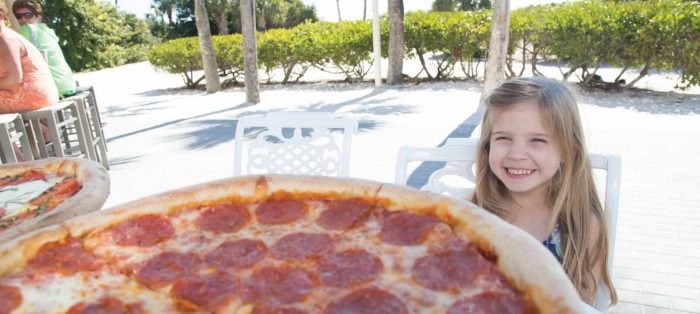 Stop on by and enjoy your second large pizza "on us" and then head over to the dive-in movie. Remember to make all mothers out there proud and wait half an hour before you go swimming.
The BOGO pizza special is available 5:30-7:30 p.m., Friday – Sunday all summer.
Join Us For Summer Fun
Sundial Beach Resort & Spa offers a myriad of activities and amenities to make for a memorable summer.
Find your perfect seashell at one of the best shelling areas in the world. Sort through Sanibel's superb examples of sea shells from the Gulf of Mexico.
Take it easy under a beach cabana or make it an active stay with tennis, golf and water sports. For information about Sundial and its many amenities, contact us today.