Meet the Sushi Chefs at Shima Japanese Steakhouse & Sushi Bar
There's an art to making sushi that is both beautiful and delicious. It's an art that is mastered daily by our two sushi chefs at Shima Japanese Steakhouse & Sushi Bar.
While some think sushi means "raw fish," that's not accurate. This popular dish features rolls of rice wine vinegar-flavored rice combined with other ingredients like raw fish, vegetables and even tropical fruits. But according to our chefs, sushi is really all about the rice.
As Sanibel Island's only Japanese Steakhouse, Shima Japanese Steakhouse & Sushi Bar is also the island's newest restaurant having just opened in February. It's one of four restaurants located at Sundial Beach Resort & Spa. Sushi can also be ordered to go or while dining at Sundial's Sea Breeze Café and Turtle's Pool & Beach Bar from 3 p.m. to close Tuesday through Saturday.
To learn more about the art of sushi, check out this Q&A with our sushi chefs Denny and Will.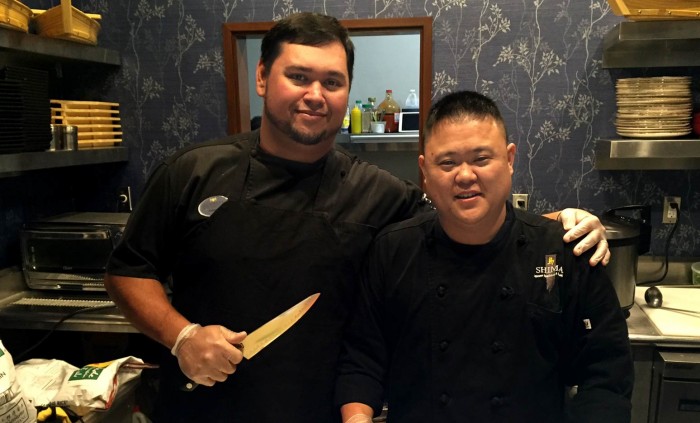 How long have you been working as a sushi chef?
Denny: Four years
Will: Six years.
What is your inspiration?
Denny: I want to serve only the best – my best work, the best quality ingredients.
Will: My father was in the Navy and traveled all over the world.  Because of him, I was exposed to all kinds of food growing up, and he is my inspiration.
What was your favorite childhood food?
Denny: Kimchee and Jjigae (a Korean stew)
First dish you mastered?
Denny: California Roll
What makes your sushi different and better?
Denny and Will: The rice! You need to have the right flavor and right consistency!
What is your favorite dish on the sushi menu?
Denny: Spicy tuna roll – tuna, sriracha, sesame oil, Masago, green onion
Will: Mackerel – it is a strong, flavorful fish
What is something not commonly eaten that is so very delicious?
Denny and Will: Eel with teriyaki glaze! It has a sweet barbecue-like flavor!
If you had your own cooking show what would you call it?
Will: And Then Some
We hope you have enjoyed becoming better acquainted with our sushi chefs Denny and Will from Shima Japanese Steakhouse & Sushi Bar. Make reservations today and enjoy an authentic Japanese dining experience at one our four hibachi grills. There you can enjoy such sushi choices as Krab Stick, Snapper, Salmon Roe, Squid, Scallop, Eel and the signature Shima roll with cream cheese, avocado, steamed shrimp, krab, tempura flake, spicy mayo, eel sauce and wasabi fish eggs.