How to Create The Sundial Jack Hammer Drink
Sip on the Sundial Jack Hammer Drink along the tropical island of Sanibel, during your stay at Sundial Beach Resort & Spa. There is no better place on the island to order a cocktail than Sundial Resort, recently voted the area's Best Happy Hour in the Best of the Islands awards.
What's a Jack Hammer? Watch the video below as Sundial Bartender Jim unveils the ingredients of the resort's newest specialty cocktail, created to celebrate the onsite improvements being done to refine the resort.
Jack Hammer Ingredients
The Sundial Jack Hammer Drink is bursting with tropical flavors that embody the island setting of the resort, infused with the following ingredients:
Smirnoff Whipped Vodka
Blue Curacao
Coco Lopez
Pineapple Juice
Meyers Rum
Sip & Stay
Have more than just a sip of paradise. Make reservations online to stay with us this fall season and enjoy the best weather of the year in Southwest Florida. Once you have booked your stay at Sundial Resort, celebrate by shaking up your own Sundial Jack Hammer Drink. We have unveiled the recipe, below!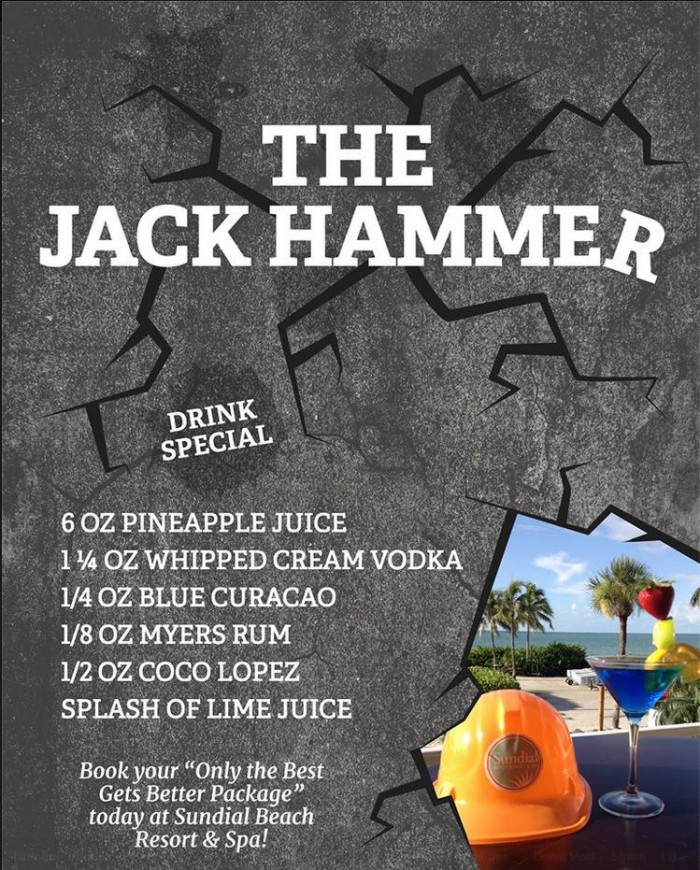 Share a picture of your Sundial Jack Hammer Drink creation in a post on Facebook, Instagram, Twitter or Pinterest, and don't forget to hashtag #SundialResort. Cheers, Sundial family!