Winter Wedding Reviews by Sundial Brides
Two brides reveal details about their winter beach weddings at Sundial Beach Resort & Spa on Sanibel Island. Find out about each bride's experience in planning for their special day with our onsite event planning expert and catering sales manager, Alicia Wenturine. Other details they revealed include information about:
Guest Accommodations & Amenities
Food & Beverage Offerings
Bridal Party Spa Treatments & Wedding Day Services
Discover what to expect when saying "I do" at Sundial on Sanibel Island with the "Winter Wedding Reviews by Sundial Brides" provided below.

Dan & Dana
January 17, 2015 
"We had a magical wedding weekend at the Sundial!  We have had guest, after guest tell us it was the most beautiful and fun wedding they had been to."
The Couple's Experience 
"A large part of that was the incredible service we received, beginning with Alicia who is Sundial's catering manager, but we referred to her as our wedding guru!  From setting up a fire pit without us even thinking of it at our welcome reception, thereby adding to the atmosphere, to making sure our wedding day went off like clockwork while shielding the bride and groom from any stress, to hopping into action to anticipate and fix any minor problems that arose before they could become a full blown problem (like the lack of a board to step on the glass during the ceremony). The chef was also amazing – she accommodated our desire to have a vegetarian/pescatarian wedding and made everything delicious!"
The Guests' Experience
"We had 135 guests and the majority of them stayed at the Sundial Resort.  It was so fun walking around the day before and after our wedding and running into our closest family and friends on the beach, by the pool, playing tennis, and on their way to kayaking, paddle boarding, and biking.  We began the weekend festivities with a pizza and ice cream and wine and beer welcome reception for three hours on Friday night by the main pool deck.  The food and setup were fantastic and a fun time was had by all – it set the tone for a fantastic weekend!"
Preparing for "I do" at the Spa
"Saturday morning I (the bride) and a bunch of my ladies started the day with yoga on the beach.  A friend was supposed to teach the class but when she canceled last minute, Alicia worked with the on-site Kay Casperson Lifestyle Spa to find us Yali from Ambu Yoga.  Yali was absolutely amazing and I would strongly recommend any bride who likes yoga to do a beach yoga session with her, she was worth every penny!  It was an incredibly happy, relaxing, fun, supportive way to begin the most important day of my life.  I then had my hair and makeup done at the Spa where Mackenzie did a beautiful job!  She remembered what I liked and didn't like from my trial and made the experience fun and stress-free.  We finished on schedule, and I even had time to enjoy complimentary mimosas with my bridesmaids while the finishing touches were done."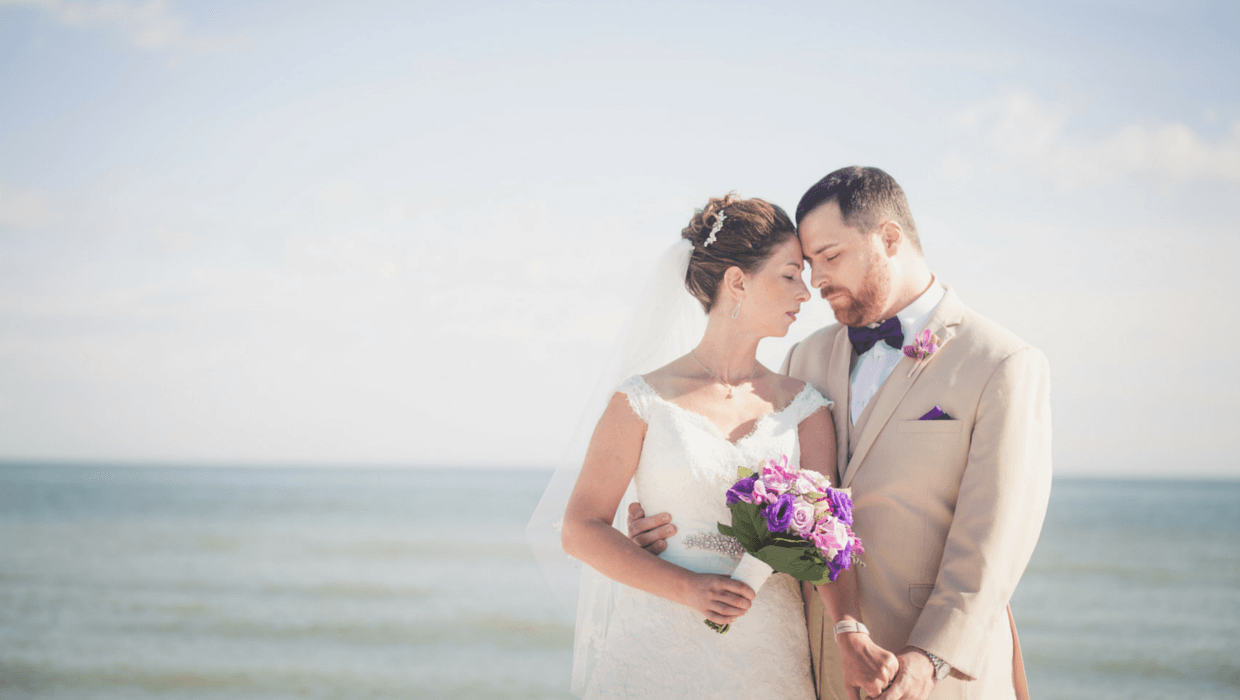 The Wedding Play-by-Play
"We did our pictures before the ceremony and had lots of great scenery at the resort and by the beach.  When it came time for the actual ceremony, Alicia was super organized and made sure everything went off without a hitch.  The weather was perfect, something we wished for and will always be thankful about – sunny and in the low 70's.  We then had an hour-long cocktail reception right off of the beach and then a dinner/dancing reception inside.  Our only complaint is that the night went by too fast!  We said in our speech to all of our guests that we wouldn't want to get married again but we wish we could enjoy our wedding weekend over and over – it was just so much fun!"
The Morning After
"Sunday morning we had a three-hour buffet breakfast for everyone in the Waterview Room overlooking the ocean.  Having all of our events at the resort was great – it eliminated the stress of coordinating with different venues and the need to provide transportation for our guests."
Dan & Dana's Departure
"We flew back home Monday night and although we are sad that the weekend is over, we love looking at all of the beautiful pictures and reliving the memories.  Thank you Mother Nature for providing us with perfect weather and thank you to Alicia and everyone at the Sundial Beach Resort for making the weekend even more wonderful than we had hoped it would be!  We would absolutely recommend the Sundial to any and every one!"

Tommy and Jenny
January 18, 2015 
"Our wedding experience at Sundial was fantastic!"
The Couple's Experience 
"Alicia made the entire planning process as easy as it could be by answering a lot of questions and providing suggestions on how to execute the many ideas we had in mind.  She is extremely detail-oriented, and it was a relief to know that after we talked about something once, that she followed through and I could completely cross that item off of the to do list."
The Guests' Experience
"The rooms were all clean and very nice.  The day of our wedding, Alicia arranged for a golf cart to shuttle us around to best optimize our time.  Our guests commented that each of the 3 dinner selections were delicious, and the servers and bartender were all extremely helpful and kind.  The bikes, kayaks, chairs, umbrellas, volleyball court, and fire pits added a lot of fun for us and our guests during our stay."
Celebrating Memories
"We very much enjoyed our beach wedding experience at Sundial and we look forward to returning to the resort someday to reminisce on our romantic and fun wedding day."
Thank you to Dana & Jenny
We would like to thank both of these Sundial brides for choosing us and taking the time to share their experience.
Plan your Sundial Wedding
Have you always dreamed about having a beach wedding? What better place to say "I do" than on Sanibel Island at Sundial Beach Resort & Spa. To plan your special day, contact Alicia at 239-395-6009 or via email at Alicia.Wenturine@SundialResort.com. To learn about convenient beauty and treatment services available for bridal parties at our on-site Kay Casperson Lifestyle Spa and Boutique, phone 239-395-6002.
Share your Sundial Wedding
Are you a soon-to-be Sundial bride or groom? Or maybe, you said "I do" with us in the past. We invite you to share your own experience and photos with us by emailing Alicia.wenturine@sundialresort.com